Runners Impressive as Records Tumble in the 2003 VMBS Boys and Girls Champs
April 2003
FINAL RESULTS
At Press time KC were ahead on 230 points, JC were second with 150, Calabar 122, St. Jago 120 and Ardenne 73
Holmwood Girls won the prestigious title for the first with 258 points, 34.5 clear of St. Jago on 223.5. Edwin Allen 177, defending champions Vere Technical 168.5 and St. Andrew High 135 completed the top five.
DAY ONE FINALS
After 20 finals, in the girls , Holmwood 121 points, St Jago, 107, Vere Technical, 79.5, St Andrew High, 76, and Edwin Allen, 72.
KC leads in the boys standing with 109 points, ahead of JC, 66, St Jago, 61, Calabar, 55, and Mannings and St Georges College.
Boys Class 1 100m Final
Tesfa Latty of St George's College sprinted to victory in a record 10.24secs in the Boys Class One 100m final at the VMBS Boys & Girls Championships at the National Stadium. Camperdown's Kevin Stewart was second. The 18-year-old erased the11 year record of 10.39.
Boys Class 2 100m Final
In class two Wellington got a good start and pulledl away in a record 10.71secs, erasing Winston Smith's (JC) record of 10.72 set in 1999. Rose was second in 10.78 with Jermaine Downie of Cornwall College third in 10.89.
Boys Class 3 100m Final
Winston Barnes of Jamaica College had a record run of 10.99 seconds in the boys class three 100m ahead of Ardenne's Garfield Biggs, 11.24, and JC's Marlon Richards, 11.39. Barnes led all the way, becoming the first class three sprinter to run under 11 seconds. The previous record of 11.10 was set in 1997 by Michael Frater of Wolmer's .
Boys Open 400m Final
KC's Kimani Williams won the 400m hurdles open in an impressive 50.93 seconds, ahead of St Andrew Technical's Isa Phillips, 51.77, and Wolmer's Kemar Smith, 51.71.
Girls Open 400m Final
Holmwood Technical's Sheryl Morgan was the winner of the Girls 400m Hurdles Open event in a clocking of 59.56secs to retain her title.
Girls Class 1 1500m Final
Kayann Thompson of Edwin Allen's smashed Evette Turner's girls class one 1500 metre record with a record time of four minutes 35.09 seconds, erasing the old mark of 4:36.13.
Girls Class 1 100m Final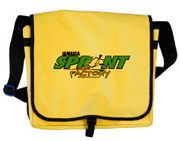 St Jago's Kerron Stewart (11.34),
Girls Class 2 100m Final
Holmwood's Traceyann Rowe (11.77),
Girls Class 3 100m Final
Queen's Samantha Henry (11.74)
Girls Class 4 100m Final
St Jago's Danisha Powell (12.26)
DAY 2 FINALS
Boys Class 1 200m
Usain Bolt of William Knibb High with a record 20.25, erasing the previous mark of 20.79. Jermaine Barton was second in 21.25 and Camperdown's Orion Nicely third in 21.36.
Boys Class 1 400m
Usain Bolt of William Knibb High with a record 45.35 seconds, the first sub-46 400m in the history of the championships.
Boys Class 2 100m
Kingston College's Andre Wellington wins in a record time of 10.71 seconds
Boys Class 2 200m
Kingston College's Andre Wellington- record time of 21.59 to erase the old record of 21.61. Toussaint Crooks of Ardenne took second in 21.90 while third was Calabar's Josef Robertson in 22.00.
Boys Class 3 100m
Winston Barnes, wins in 22.69 from Ardenne's Garfield Biggs, 23.00, and his teammate Marlon Richards 23.07.
Boys Class 1 Shot Put
Kimani Kirton- KC with a throw of 18.12m. His teammate Fabian Morgan was well back with 16.44m and St. Jago's Aundrae Clarke third with 15.86m.
Girls Class 1 200m
St. Jago's Kerron Stewart, 23.50, held off Nickesha Anderson of Herbert Morrison, 23.57, and Manchester High's Sherone Simpson, 23.60.
Class 1 400m
Holmwood's Sheryl Morgan, 52.69 beating St. Elizabeth's Davita Prendergast, 53.74, and Vere Technical's Veronica Patterson 54.26.
Girls Class 3 400m
Nicola Legister of Camperdown High with 56.40
Girls Class 3 800m
Nicola Legister of Camperdown High with 2:17.74